Regular price
$149.96
Sale price
$134.96
Unit price
per
Sale
Sold out
Ideal for those with an active lifestyle, or those looking to start one! 
Hay's LevelUp Fitness Bundle is designed to mirror the cycles of regular exercise by providing you with energy pre-workout, efficiency during workout, and recovery post-workout. 
Taken routinely, and when combined with a healthy diet and regular exercise, you can rely on Hay's LevelUp Fitness Bundle for increased energy, muscle growth, and weight loss.
Think of including this bundle in your routine as having a gym buddy you've got spotting you 24/7. 
Why bundle? Because supplements work better together! 
Your body is complex, but your routine doesn't have to be. When focused around specific nutritional goals, the benefits of individual supplements begin to support the effectiveness of others. 
Plus, bundling is the best way to save! An investment in your health should be rewarded — that's why our products come at a higher discount the more you bundle:
Get 30% off when you go gold

Get 20% off when you select silver

Get 10% off when you buy bronze
View full details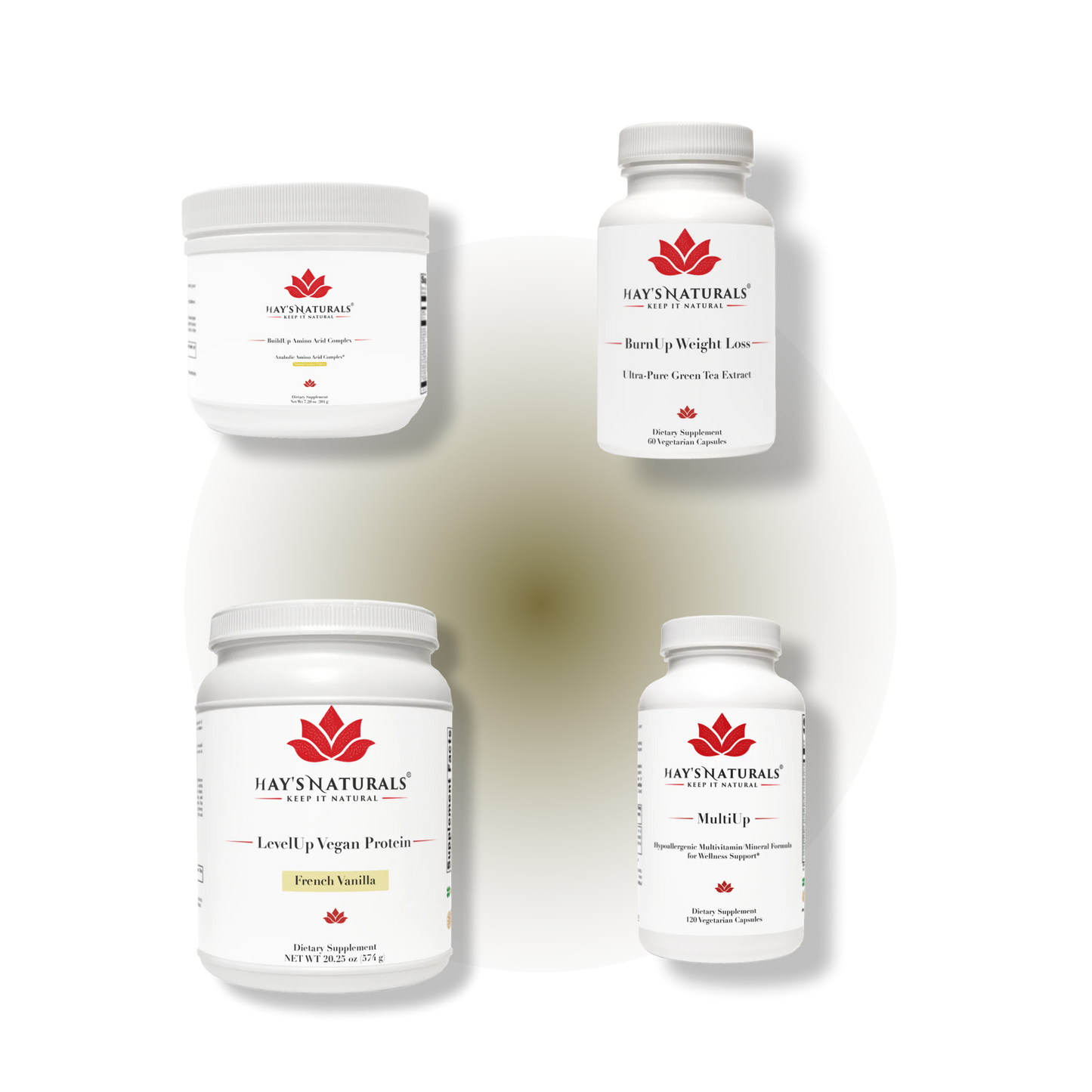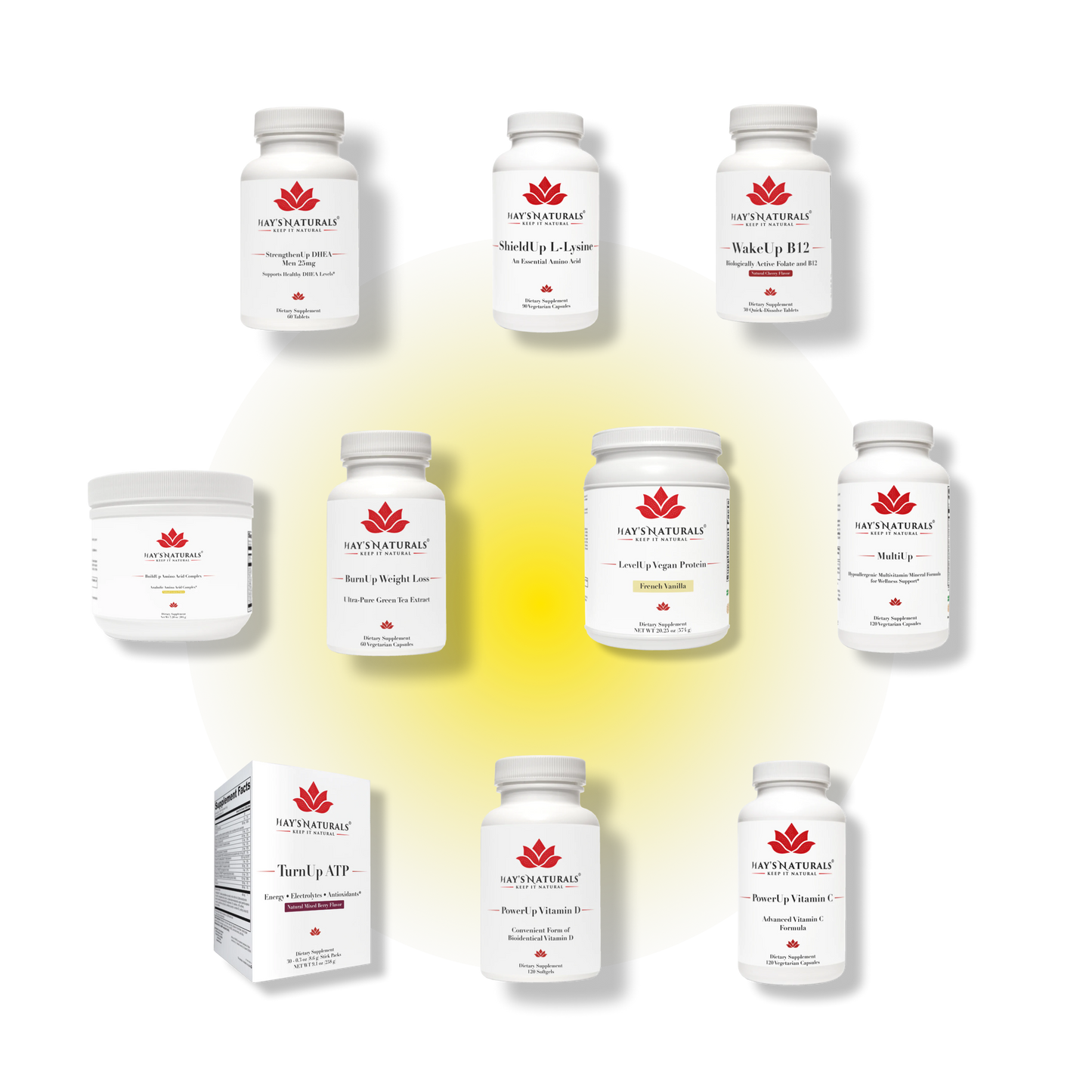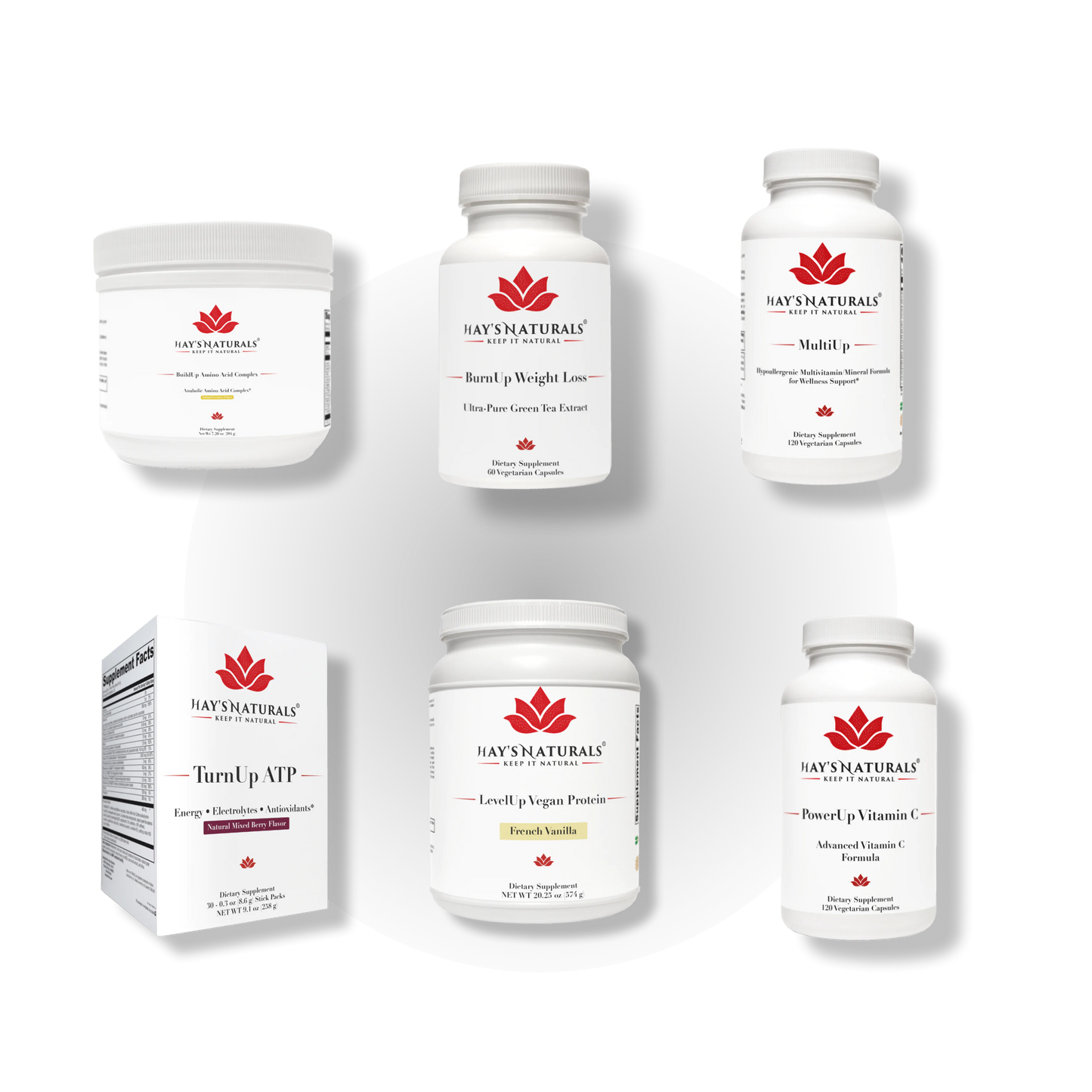 Collapsible content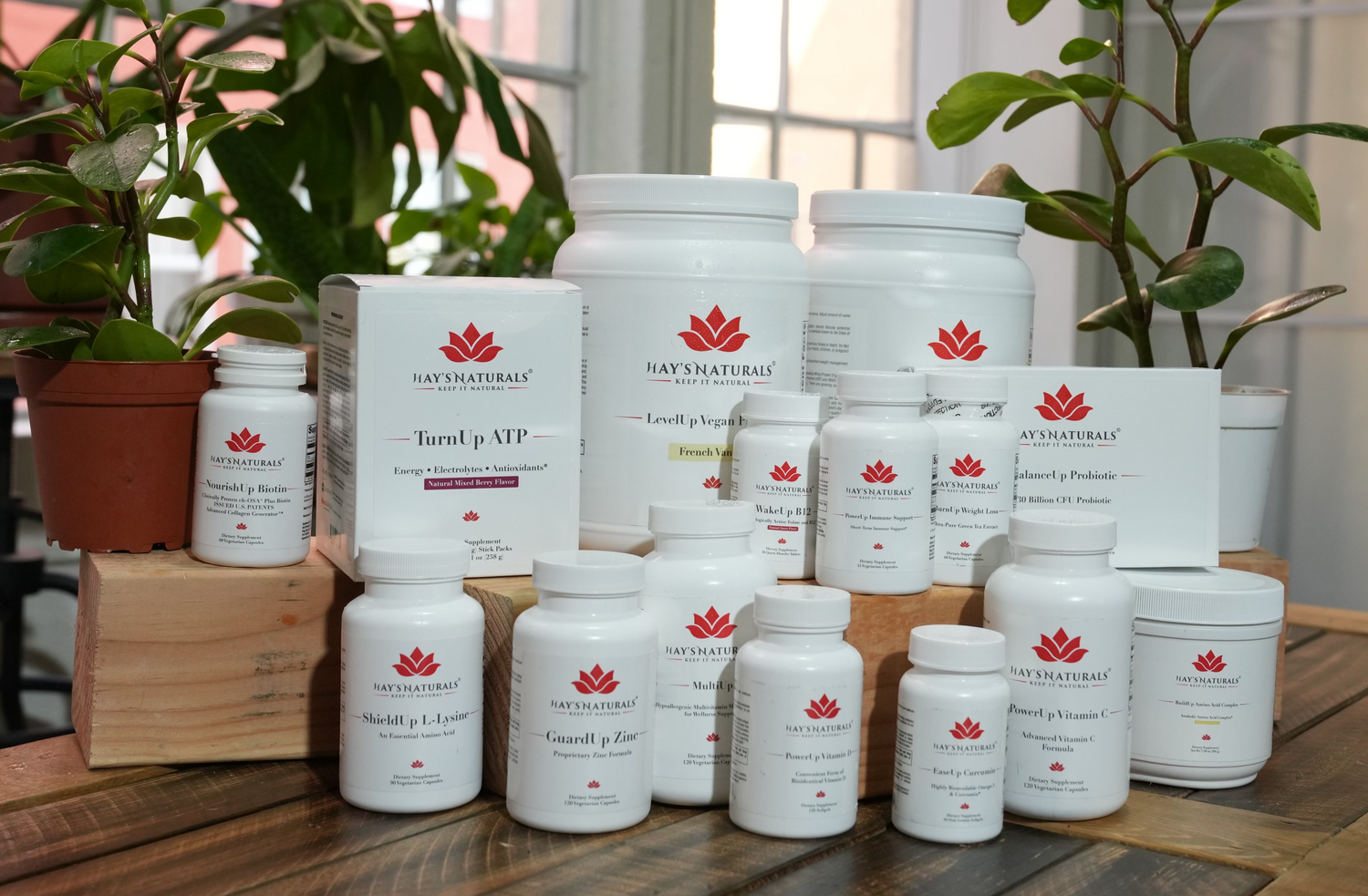 Benefits

Hay's LevelUp Fitness Bundle benefits the body by supporting nutritional systems responsible for energy pre-workout, efficiency during workout, and recovery post-workout— key benefits include:

Bronze (4 Products)
BuildUp Amino Acid Complex

Supports Muscle Protein Synthesis in the Young and the Elderly*

Supports Muscle Recovery After Exercise*

Supports Muscle Strength and Function*

Helps to facilitate fat loss and new muscle construction

Helps decrease recovery time so you can exercise more

LevelUp Whey Protein

Supports Healthy Body Composition*

Supports Immune Health*

Supports Normal Muscle Recovery Following Exercise*

Supports Gastrointestinal Health*

Contributes to Macro-Nutrition*

BurnUp Weight Loss

Provides Antioxidant Support*

Supports Weight Management & Fat Oxidation

Supports Healthy Immune Function*

Supports Healthy Endocrine Function*

Provides Alternative to Consumption of Multiple Cups of Green Tea*

MultiUp

Foundation Nutrition for a Variety of Protocols*

Basic "Insurance" Formula for Wellness*

Supports Antioxidant Protection*

Supports Detoxification*

Supports Health in Those with Poor Nutrient Intake*

Supports Those with Stressful Lifestyles*

Silver (6 Products) - All the benefits of bronze, plus
TurnUP ATP

Designed to Support a Healthy Energy Level*

Supports Electrolyte Replacement*

Helps Fight Free Radicals with Antioxidant Nutrients, Including S-Acetyl-L-Glutathione and 500 mg of Vitamin C*

Provides an Alternative to Ordinary Caffeine*

Provides Ingredients That Support ATP Biosynthesis* which is the fundamental pathway for energy production

PowerUp Vitamin C

High-Potency Vitamin C Formula Provides 750 mg Vitamin C per Capsule

Formulated with BioPerine¨ to Enhance Nutrient Bioavailability*

Supports Immune and Antioxidant Systems*

Supports Production of Collagen, Carnitine, and Neurotransmitters*

Buffered with Minerals to Help Prevent Potential Stomach Upset*

Gold (10 Products) - All the benefits of silver, plus
WakeUp B12

Support Methylation*

Support Nervous System Health*

Support Normal Cellular Proliferation (Including Red Blood Cells)*

WakeUp Does Not Contribute to Unmetabolized Folic Acid Accumulation (UMFA)*

WakeUp Supports Healthy Serum Folate Levels*

WakeUp Supports a Healthy Pregnancy Outcome*

PowerUp Vitamin D

Regulates mood and wards off depression and anxiety

Supports Bone Strength and Dental Health*

Supports Modulation of Immune Function*

Supports Healthy Cell Differentiation*

Supports Neurologic and Cognitive Health*

Supports Musculoskeletal Comfort*

Supports Cardiovascular Health and Healthy Blood Sugar Metabolism*

Supports Vitamin D Repletion in Cases of Dietary Deficiency, Limited Sunlight Exposure, or Use of Depleting Therapies*

Shield Up Lysine

Supportive in blocking enzymes which virally infected cells secrete

Supportive in suppressing viral replication

Supportive inhibiting viral yield

Provides an Essential Amino Acid*

Provides Balance to a High Intake of Arginine*

Supports Synthesis of Collagen*

Supports Healthy Growth and Protein Synthesis*

DHEA

Supports Healthy Androgen and Estrogen Levels*

Supports Testosterone Levels

Hormone Precursor to Androgens*

Supports Healthy DHEA Levels*




Supplement Facts
Ingredients

We use only all-natural ingredients sourced from a single trusted manufacturer — that's our promise to you, call us directly if you want to know more.

Every product has been researched, developed, clinically tested, and batch-reviewed by a board of medical advisors to verify both quality and potency.

For a full listing of the ingredients found in Hay's LevelUp Fitness Bundle, please refer to the individual product pages below:

BuildUp Amino Acid Complex - Natural Lemon Flavor

BurnUp Weight Loss - Green Tea

LevelUp Whey Protein Creamy Chocolate

TurnUP ATP

MultiUp

WakeUp B12

PowerUp Vitamin D

PowerUp Vitamin C

ShieldUp Lysine

DHEA - Men / Women


Clinical Applications
Does Not Contain